SPECIAL DE-LIVER-Y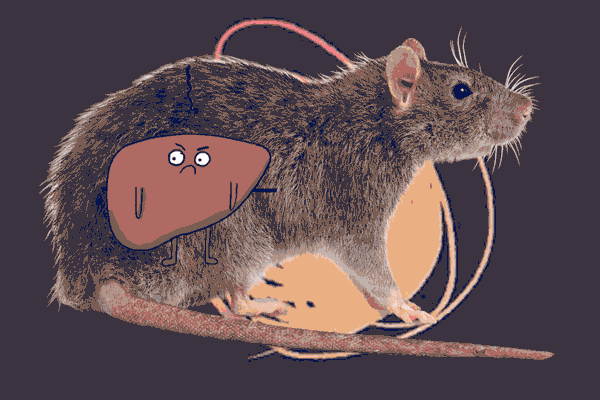 Growing livers for lab rats
Researchers from the University of Pittsburgh School of Medicine have figured out how to grow a liver from stem cells — for mice, at least.
The tiny lab-grown livers were given to mice with liver disease and actually helped them live longer! If the process can be adapted to work for humans, it could change the face of treatment for liver disease, which causes about 2 million deaths worldwide every year.
Liver disease in humans
We all know that too much booze is bad for our livers, but there are lots of types of liver disease that aren't related to our drinking habits.
One example is non-alcoholic fatty liver disease, which is actually getting more and more common among young Singaporeans.
As the name suggests, that's when too much fat gets stored in our liver cells, which can cause the liver to become inflamed.
Looking after your liver
Early prevention is the key when it comes to liver disease, so here are some tips on how to take care of your liver health:
Adopting a healthy lifestyle — Obesity is one of the main causes of fatty liver disease, so get moving, guys!
Cutting back on alcohol — it's good for your liver and your wallet.
Steering clear of toxins in general — these could even be present in some medications and supplements, so make sure you consult a doctor for the right dosage!
If you're wondering what it really means to have a fatty liver, you're not alone. You can find the answer to this common question here!
SNIPPETS
5 Singaporean stories to catch up on
1️⃣ Thanks, mom! Donations to Singapore's breast milk bank have been going strong during the pandemic.
2️⃣ The next phase: Experts encourage the use of TraceTogether so that Singapore can move forward into Phase 3.
3️⃣ It's getting hot in here! Local researchers have been looking at how Singapore's hot weather affects migrant workers and how policy changes can help.
4️⃣ Healthcare heroes: 95 healthcare workers and volunteers in Singapore have won Healthcare Humanity Awards.
5️⃣ Caring for Caregivers: 75% of caregivers to mentally ill patients report the need for a break every once in a while.
And 5 facts to spice up your life:
1️⃣ A 90-year old grandma is the first person in the world to receive the Pfizer Covid-19 vaccine outside of a trial.
2️⃣ Medicinal mushrooms: Psychedelic therapy for treating mental illnesses are gaining traction for their significant medicinal uses.
3️⃣ Full house: Hospitals in the US are running out of space to treat COVID-19 patients.
4️⃣ A hairy situation: A group of children in Spain are still growing hair all over their bodies after being given the wrong medication for indigestion 2 years ago.
5️⃣ Running a marathon for mental health: A man in Canada has run 164km to raise funds for men's mental health in his community.
NOT SO SWEET
The sugar-coated truth
Made from stevia rebaudiana leaf extract, Stevia is one of the most popular sugar substitutes out there.
Unfortunately, researchers from Ben-Gurion University of the Negev (BGU) in Israel have recently found that stevia consumption can sometimes upset the balance of microbes in your gut.
This research is still in its early stages though, so you don't have to throw out all your stevia packets just yet.
Sweeter than sugar
As a plant-based sweetener, Stevia tends to be more popular than artificial sweeteners like aspartame.
It's 200 to 300 times as sweet as sugar but is calorie-free and a really attractive option to people trying to cut down on added sugar.
But while Stevia is generally thought to be safe, research on its consumption has always been relatively sparse.
Are you keen on the sugar-free lifestyle?
Sugar isn't bad for you in small amounts — it's really only excessive amounts of added sugar that are harmful to your health.
If you don't want to rely on stevia or artificial sweeteners, there are still a bunch of ways you can reduce your sugar intake naturally.
These include satisfying your sweet tooth with whole fruits, or swapping out sweet drinks with unsweetened tea or even just good ol' water.

Trying to eat healthy in Singapore? Check out these suggestions from a clinical dietician!
SHOWER THOUGHTS
Weird & Wonderful
HEALTH HACKS
'Tis the season… To be socially responsible
It's beginning to look a lot like Christmas — kinda.
We've all been looking forward to the end of 2020, but as the holiday season rolls in, it's important that we all continue to keep ourselves and each other safe.
If you're hanging out with friends or family, keep your numbers limited. Smaller gatherings keep everyone safe, and if you're going outside, don't forget to wear your masks and practice safe distancing.
Worried about getting gifts for everyone? Get your shopping done online, or even try some DIY gifts — everyone loves a good hand-made card or gift and crafting is also really great for your mental wellbeing. (If they look a little wonky at the end, well, it's the thought that counts!)
We've all definitely been hit by the travel bug this year, but until Singapore gets its travel bubble going, virtual travel might be a cool alternative for you. Visit a ton of different places from the comfort of your own home, and both your health and your savings account will thank you!